2016年03月02日
CR 269198
, Consolidated Rail Corporation, Buy and Hold U.S. Savings Bonds, CR BL 3-86
Walthers
50' Evans smooth side boxcar
stock#932-60652, w/Athearn underframe cushionized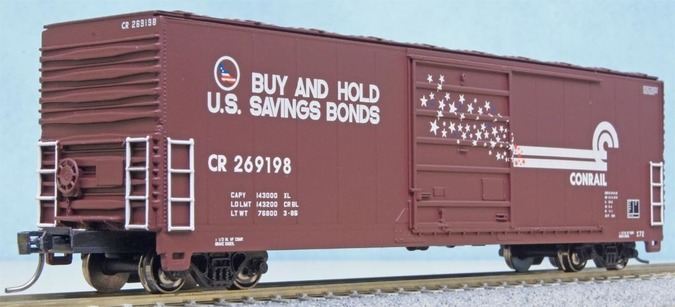 コンレールは、1976年に発足した国策会社コンソリデイテッド・レール・コーポレイションの通称。ペン・セントラル、セントラル・ニュージャージー、イリー・ラカワナ、リハイバレイ、リハイ・ハドソンリバー、レディングの6鉄道の破綻を救済したもの。このボックスカー(RailcarPhotos, 1988)に描かれた貯蓄国債の宣伝は、その経緯を踏まえているのだろう。SD40、CR6300にも同じフレーズが書き込まれた(RailPictures.Net, 1986)。
 そして同鉄道は1997年、ノーフォーク・サザンとCSXに分割譲渡された。
Conrail was the common name of the Consolidated Rail Corporation, a national policy company, which was established in 1976 to rescue bankruptcy of the 6 railroads, Penn Central, Central of New Jersey, Erie-Lackawanna, Lehight Valley, Lehigh & Hudson River and Reading. I think that propaganda of drawn savings bonds in this box car, may be considered the history. And on the sides of CR 6300 (SD40), the same phrase was written.
In 1997, the railroad was divided and assigned to Norfolk Southern and CSX Transportation.
続きを読む
posted by Works K at 02:17|
Comment(0)
|
boxcar 50' slide-door
|

|