Works K is the handle name of me, Kotaro Kuriu. Under it, I am producing many models. It's main items are HO scale BN engines and rolling stocks, which large part is kitbashing from mass production made by Athearn, Kato and other manufactures. Otherwise, I have collected Brass models too. As BN existed in only 25 years, I am modeling also O scale in the other era. Thus, I have interested in around American prototype railroad items.
In my elementary school days, circa 1960, I introduced this hobby with battery-power train set, and developed to 3-rail toy trains. In 1970 at Kanazawa, I started my student life of university and really my railroad model hobby. As learned from Mr. Hiroyasu Nishio, I scratch build many Japanese EMU (electric multiple units) models with paper and wood materials. Some electric locomotives were influenced by Yoshinori Arazaki. When I moved to Hirakata, Osaka to get a job in 1975, I continued to build models. But, the dilemma between 1:80 scale and 16.5 mm gauge (the fine gauge is 13 mm for 3' 6" prototype), loosed interesting in railroad modeling from me, and I had been absorbed in music recording and computer programming.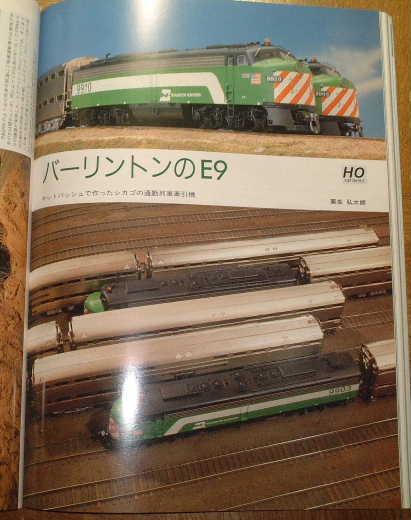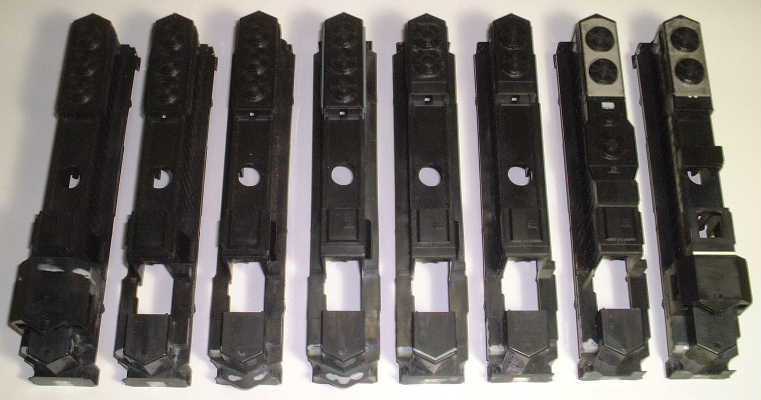 In 1993, I visited the U.S.A. at the first time. And the travel took me to write some articles for US railroad fanning, on issues of "Train," Japanese model train magazine. The next step was HO scale modeling, as Chicago Commuter train two E9As, seven SD40-2s, and twelve ACF CenterFlow Covered Hopper Cars, all in BN color.
Now, I live in Yawata-City, Kyoto, and am a member of :
Friends of Burlington Northern Railroad (FOBNR/USA)
North American Model Railroad Club (NAMRAC/Japan)
Japan O gauge Railroad model Club in Kansai (JORC Kansai/Japan)
Kyoto Tunnel Club (KTC/Japan)
And a past member of :
Journal Box Club, Kanazawa (Japan)
Swiss Meter-Gauge Railroad Club (Japan)
Japanese Railroad Engineers' Association (JREA/Japan)
My Articles in printing;
Train
, a Japanese magazine for international railroad photography and modeling
Sept. 1993 Hobby shops I visited in the U.S.A.
Oct. 1993 Visit Washington D.C. Union Station only two hours
Sept. 1994 Street car watching at Seattle, Washington
Dec. 1994 A splendid landscape for railfans from Sears Tower in Chicago
Jan. 1996 BN's E9s for Chicago commuter service from Life-Like product
July 1999 Kitbashing the Athearn's SD40-2 to many versions of BN fleet (co-author)
Jan. 2000 Collecting ACF CenterFlow covered hopper Cars of BN color scheme
Oct. 2000 About HO scale models of Keihan Limited Express scratch-built by its employees
Sept. 2017 Difficulty of model collecting with a limited era
Sept. 2017 Japanese nomenclature of proper nouns in the U.S.A.
Apr. 2018 A structural story of the caboose trucks for the Union Pacific Railroad
The Rail
, a Japanese magazine for railroading
No.77, Jan. 2011 Memories of a engineer for the Keihan Railway's rolling stocks (as the reporter)
No.78, April 2011 Technics about "Otogi Train" of Ujigawa-Rhine
No.85, Jan. 2013 Old memories about the previous color scheme of the Keihan Limited Express train
Hobby of Model Railroading
(Tetsudo-Mokei-Shumi), a Japanese magazine for modeling
Aug. 1971 Construction of a fabricatable layout
Sept. 2018 Soundproofed remodeling of a fabricatable layout, 46 year old
Railroad Pictorial
(Tetsudo-Pikutoriaru), a Japanese magazine
Dec. Extra 1991 An outline of the Keihan Electric Railway's rolling stocks
Railroad Fan
(Tetsudo-Fan), a Japanese magazine
Oct. 1989 The intention of constructing new Keihan's 8000 EMUs
Sept. 1998
Technical drawings of Eizan Electric Railway
(as the editor)
re-edited on Mar. 02, 2016
【関連する記事】