TLCX 10
, Transportation Leasing Company, a Division of Pullman Inc., NEW/BLT 7-64
Compartmentizer Equipped Insulated
AHM/Austria 41-ft reefer, stock#5310 , released in 1964-1965? (
Tony Cook's website
,
Martin's website
)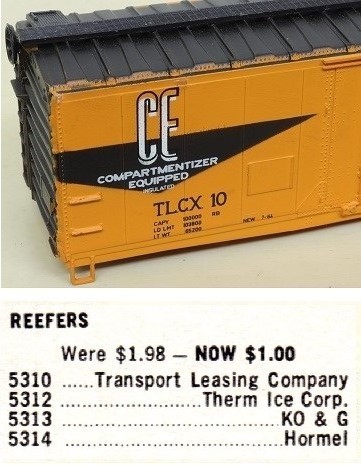 "Compartmentizer" is a movable bulkhead type loading device developed by Pullman-Standard in 1951 (
MR forum
), and Transportation Leasing Company is a subsidiary of the company. According to page 43 of the Railway Prototype Cyclopedia Vol.9, the prototype was built in 1960 and used to demonstrate the Compartmentizer for several months. This is the ninth year since the new release, and coincides with the appearance of competing products.
The model is one of the four PS-1 insulated boxcars released by AHM in 1964-1965. The right list is an AHM ad for MR magazine, where this product first appears, part of the Jan. 1965 issue, pp. 14-15 (bottom).
It lost the trucks and applied the product made by Athearn. Along with that, the height of the car body is adjusted by cutting the car body bolster by about 0.5 mm. The couplers are converted into body-mount Kadees, and added weight. The white printing on the R-side is out of alignment and retouched.
page 14-15 of the Jan. 1965 issue of the Model Railroader magazine
"Compartmentizer"は、プルマン・スタンダード社が1951年に開発した可動隔壁型荷崩れ防止装置(
TransPacific R.R.
を参照)で、Transportation Leasing Companyは同社の子会社。According to page 43 of the Railway Prototype Cyclopedia Vol.9によれば、この車両は1960年に建造されて数か月間、そのCompartmentizerのデモンストレーターとして使われた。これは新規リリースから9年目で、競合製品の登場時期と重なる。
 モデルはAHMが1964-1965年に売り出したPS-1 insulated boxcar 4種類のうちの一つ。右のリストはこの製品が最初に登場するMR誌のAHM広告で、1965年1月号14-15頁(下)の一部。
台車を失っていてアサーン製を充当。それに伴い車体ボルスターを0.5ミリ程度削って車体高さを調整。カプラーを車体マウントケーディー化。ウエイトを追加。Rサイドの白版がずれていてレタッチ。
2019-12-09 MR誌の広告を追加
2021-02-07 メーカー名をRocoからLiliputへ訂正